AD'OCC used the cloud subtitling solution Eolementhe, published by the Montpellier-based company Videomenthe, to subtitle in English videos published during the VivaTech trade show.
AD'OCC, the economic development agency of the Occitanie Region, accompanied some thirty innovative companies to the VivaTech trade fair from 16 to 19 June 2021. Within this framework, the agency produced several videos to promote the activities of regional exhibitors, in the form of interviews, pitches and reports. AD'OCC wanted to subtitle these videos in English, the official language of the event, in a very short timeframe.
Despite the tight schedule, Videomenthe rose to the challenge, providing a turnkey service. The use of EoleCC allowed the subtitles to be generated very quickly thanks to the automatic tools and the intervention of a professional translator for the validation of the English subtitles guaranteed the quality of content expected by AD'OCC.
Eolementhe CC in fact is a subtitling Saas solution which combines automated tools and human revision, through a very user-friendly interface.
Once the video has been uploaded, the AI software performs the tasks of converting speech to text and automatically translating the text into 120 languages. Users can then collaborate in the process, by revising and validating the content, and Eolementhe CC finally embeds the subtitles in the video, which can then be shared directly (link, Dropbox, Twitter, Youtube).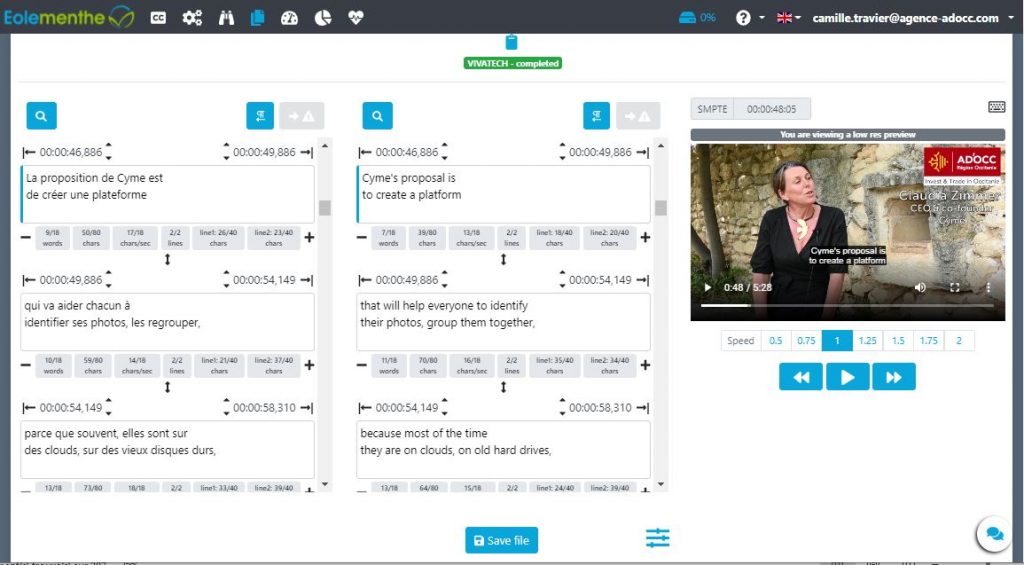 « This turnkey service is interesting for clients who do not have multilingual resources available: Eolementhe automatically generates the subtitles in several languages, and our translation partners revise and validate the texts directly on the platform. AD'OCC was thus able to benefit from quality subtitling, according to a specific graphic charter, in a very short time and at a competitive budget!», Videomenthe CEO Muriel Le Bellac concludes.