C.O.P Gironde has selected Videomenthe's solution EoleCC to subtitle its videos in 3 languages.
C.O.P Gironde is a non-profit association which main goal is to preserve biodiversity. It informs people in France about the dangers and effects of using harmful pesticides, and their impacts on the health of humans, animals, birds and insects. It also works internationally, through a partnership with the association Birdfriends Perù, which works for the protection of hummingbirds in the Amazon and Peru.
In this context, subtitling of information and awareness videos is a prerequisite.
« EoleCC solution is easy to use and allows our association to transmit its message to the world, thanks to subtitling in French, English and Spanish!», C.O.P Gironde's founder and solidary artist, Christian Filhos (Gignac).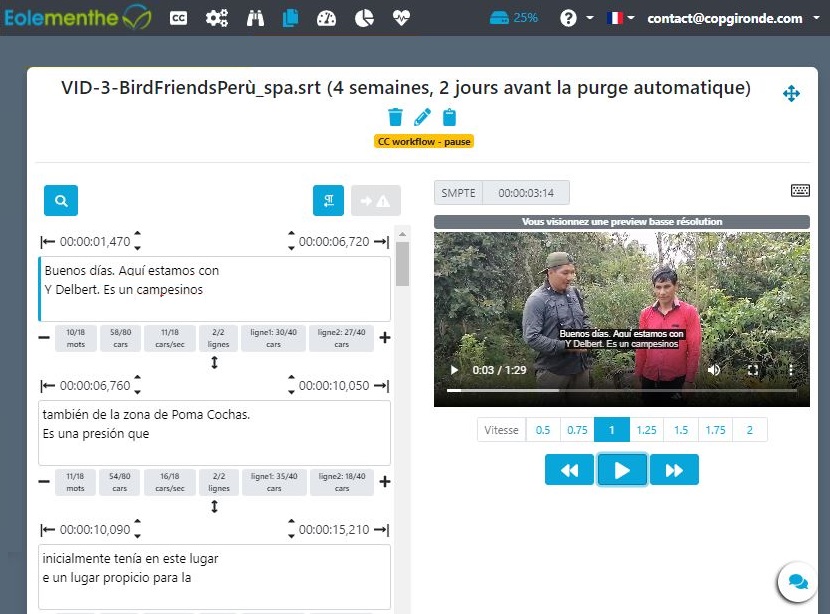 EoleCC solution in fact enables professionals in every field to add multilingual subtitles to their videos by means of a very user-friendly interface, combining automated tools and human revision.
Once the video has been uploaded, the AI software performs the tasks of converting speech to text and automatically translating the text into 120 languages. Users can then collaborate in the process, by revising and validating the content, and Eolementhe CC finally embeds the subtitles in the video, which can then be shared directly (link, Dropbox, Twitter, Youtube).
« EoleCC can be adapted to all types of structures, allowing them to subtitle their videos easily, quickly and cost-effectively.
We are delighted to count C.O.P Gironde among our clients and partners. The environmental values supported by the association are important to us, and knowing that our solution allows to bridge the gap between France and Latin America is very gratifying!», Videomenthe CEO Muriel Le Bellac concludes.