CYME has turned to Eole CC software solution to add English subtitles to its product videos. 
CYME is a french software editor created by former Aquafadas (Rakuten DX) co-founders, Claudia Zimmer, Matthieu Kopp and by Thomas Ribreau. The company provides professional and amateur photographers with tools to easily manage, transfer and view their photos, regardless of the program that created and catalogued them.
To reach its community of photographers, CYME relies on video by broadcasting product presentations and tutorials on YouTube. As these videos are in English, CYME has decided to subtitle them in order to meet current digital usage: viewing without sound, use of keywords, search engine optimization.
After searching and testing several online subtitling solutions, Anthony Mazza, CYME's Community Manager, chose the EoleCC platform.
"EoleCC is the online subtitling solution that best meets our needs. Simple yet professional, the tool allows us to save time with automatic subtitling while offering the possibility of human review. The budget is also very attractive for a light use like ours," he explains.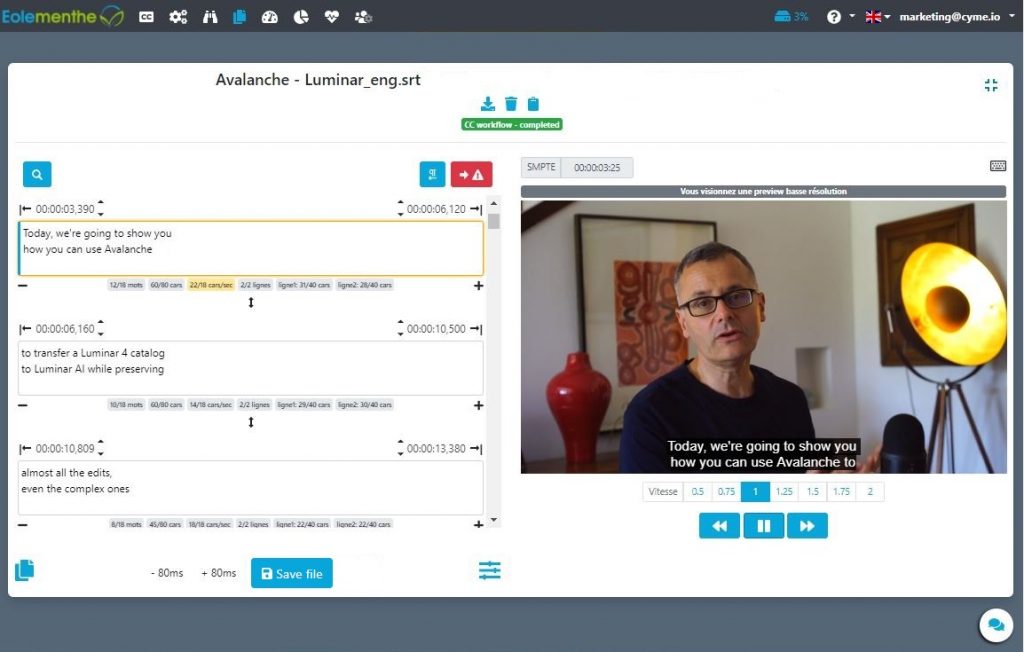 The EoleCC solution in fact is suited to any kind of clients, whatever the volume of videos. It combines automated tools and human revision into a very user-friendly interface. Once the video has been uploaded, the AI software performs the tasks of converting speech to text and automatically translating the text into 120 languages. Users can then collaborate in the process, by revising and validating the content before EoleCC finally embeds the subtitles in the video and deliver it (link, Dropbox, Twitter or Youtube).  
« The solution meets the need for autonomy that many of our customers have. As the interface is very easy to use, our customers benefit from a professional subtitling service, without technical constraints and at an attractive cost. In fact, we make multilingual subtitling available to everyone!», Videomenthe CEO Muriel Le Bellac concludes.