Use the video to attract, inform, train and engage your teams: this is one of the trend for corporate communication.
We're living in a video-first world, where benefits of video are many: attractive, simple to understand, easy to remember, emotional, interactive…
In a Forrester study (How Video Will Take Over The World), Dr James McQuivey estimates than a video is worth 1.8 million words! Ok, that's a lot, and let's be honest, we don't have the skills to validate that calculation :-). But everyone knows that a video allows a better information retention.
Video is truly a key tool for marketing and communication… but what about video for training and internal communication?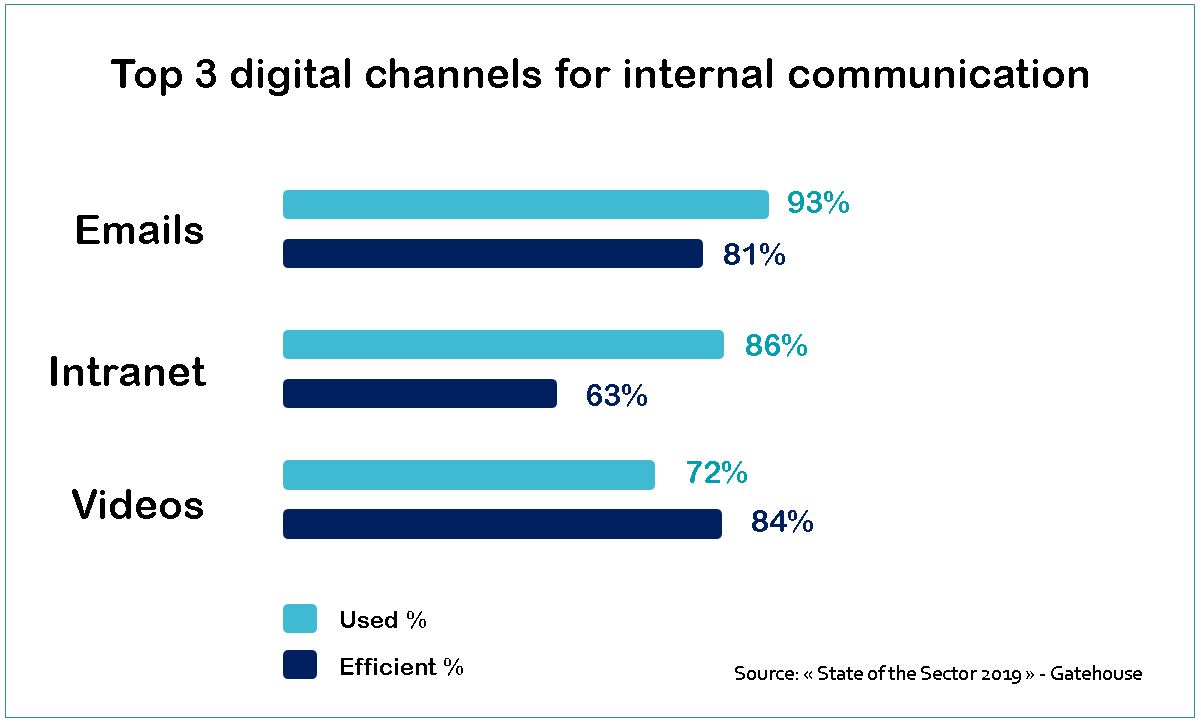 A 2019 survey to the internal communication profession (Gatehouse) shows that video is in the top 3 of the most used digital channels. And even if the "old" email is still there, video is definitely the most efficient tool!
This trends will increase, notably with the young generations entering companies.
Here are a few examples of how you can use video for training and internal communication. We hope it will convince you to not overlook that tool!
1 –  Employer brand and recruitment

Attract new talents and retain them is a huge challenge for HR teams, whatever the size or activity of the company.
You have to make your company attractive and give your brand a face, by highlighting its values, culture, people, HR policy… In exactly the same way as marketing services promote your product or service.
An example? Mazars, an international company specialising in audit, accountancy and legal services (not the funniest job at first glance), which decided to break the codes by adopting an offbeat tone in its recruitment videos.
We made a selection for you:
Web series « Nobody's Perfect », shared on social networks to attract candidates. The format ? Short humorous videos about job interviews, with real employees talking about their experiences
Employer brand video for a regional Mazars entity:
Videos project an innovative, modern and positive image of Mazars to future employees, wherever they are!
By the way, did you ever think about the transcription and subtitling of your videos? It's really important, on one hand, because videos are now mostly watched without sound on social networks (read our article "4 reasons why you need to translate and caption your videos – part 1"). On the other hand, you will maybe attract a talent who doesn't speak French, since videos can be spread around the world. That's why adding multilingual subtitles can be a good idea (read our article "How to translate and caption your videos – part 2").
2 – Onboarding
Once you've recruited your talents, the company has to welcome and integrate them! According to Forrester:
Employees are 75 percent more likely to watch a video than to read documents, emails or web articles.
That's why video is an effective tool, to be used throughout the onboarding process: welcome video, video about company culture, answers to FAQ… everything is possible if done in the right way.
See how Adobe is dealing with onboarding in this super welcome video, more attractive than a paper document!
3 – Video and training, the perfect combination

Another interesting (or frightening!) statistic: according to a study from the SAVO Group:
Just 7 days after a training session, the average employee will have forgotten 65% of the material covered, and after 6 months the number increases to 90%.
To increase the retention, use video: for whole courses or short videos that complete otherteaching aids, video highly captivate audience thanks to visual representation. Another advantage: the ability for the trainee to watch video on-demand, when needs arises.
Finally, thanks to multilingual subtitles, video training programs can be mutualized between several entities of a company, for a consistent message. That's what one of our client does. This company, specialised in electric vehicle and combustion engine propulsion solutions, operates in 24 countrie. The HR team uses the collaborative platform Eolementhe to subtitle short training videos : subtitled videos are automatically created in 7 languages, with a human correction and validation made by client's team. Training videos are then spread throughout client's international entities.
Convinced? Ready to go, or need more info? Let's discuss!