How to convert an MP3 file to text?
Are you about to convert an MP3 to text in Word? Did you know that there is a much faster way to transcribe your audio file into text? Videomenthe offers you a solution to convert an MP3 to Text and make an Audio transcription that will save you a lot of time. So, before you start rewriting the entire content of your podcast, read the following quickly.
1.3-step tutorial for converting MP3 to text  
This is EoleCC, your automatic online transcription service, created by Videomenthe. It allows you to transform your MP3 files into text in the blink of an eye.
1.1. Step 1: transcribe your MP3 into text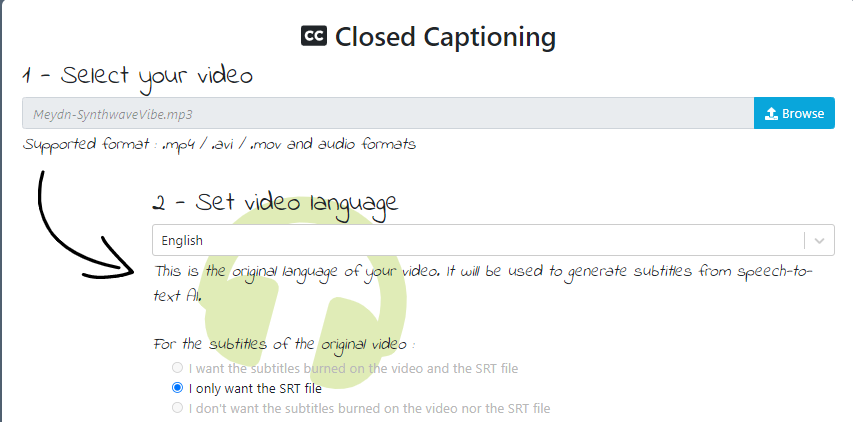 To convert your audio files into text, start by visiting the Eolementhe platform. You can take advantage of a free trial, which allows you to transcribe up to 30 minutes of audio, with a choice of 5 languages (French, English, Spanish, Italian and German). And you'll see, it's very simple!

Upload your file to the platform (note that you can do the same from a video).

Select the original language of your audio
You may be wondering how this works. Our transcription software uses artificial intelligence to transcribe your words into words. This significantly reduces the time it takes to transcribe an MP3 into text.
You get your text in its original language 5 times faster than if you used a manual alternative. But that's not all. With EoleCC, you can also translate your text into the language of your choice. Here are some explanations just below.
1.3. Step 2: Translate a text into the language of your choice
EoleCC supports automatic translation in more than 120 languages. Simply select the language(s) of your choice.
This feature is for example very useful when converting an MP3 for your foreign customers.
It is also very interesting if you want to translate a course for students of different nationalities. This is the solution chosen by the Collège de Paris. The teachers subtitle their courses to ensure that foreign students learn effectively.
As for the choice of language, it's up to you. Your EoleCC transcription tool allows you to translate a podcast into Japanese as well as Norwegian.
1.4. Step 3: Correct the online text file
1.4.1. Obtain error-free text 
Errors may occur in the transcription and translation. You may be tempted to use a free third-party service to correct your text.
This is possible. However, you may spend a lot of time designing a faithful and error-free transcription. Indeed, free services are far from 100% reliable, whether it is a translation into French or any other language for that matter.
With EoleCC, on the other hand, you get a text that is 90% correct in terms of spelling and grammar. But it is also possible to proofread the text yourself and make corrections directly on the platform!
The platform also allows you to add specific vocabulary (proper nouns, technical terms, etc.) to a customised dictionary. This will improve the automatic transcription of your future texts.
Good to know

If you are working in a team, you can use the collaborative mode on our platform to work together on your texts.
1.4.2. Proofreaders at your service
Want to save even more time? Our professional proofreaders and translators will check and correct even the smallest language errors for you. So take advantage of this service and get a well-written text in any language, without any stress!
2. Cost-effective MP3 to text transcription
Do you need a fast and reliable transcription solution on a daily basis? Are you planning to translate your MP3s into any language? That's why, whatever your MP3-to-text project, we offer you an alternative.
2.1. A subscription to EoleCC Lite
EoleCC Lite is the subscription you need to transcribe and translate a podcast. For only €19/month* without commitment, you get a 30-minute package to transcribe and translate your podcast in 5 languages: French, Italian, Spanish, German or English. Of course, the transcription is automatic.
2.2. Pro formulas to convert your MP3s  
Do you produce a lot of audio and want to perform multilingual subtitling with a wide choice of languages and in collaborative mode? Take a look at our packages: credit or subscription.
Are you still hesitating to use our subtitling platform? Then read on. You'll change your mind.
3.Converting an audio file into text online: 2 reasons
Converting your MP3 file into text has become essential today. We'll explain why.
3.1. Gain visibility 
Search engines do not yet decode spoken language. When you publish a podcast on the Internet, for example, it is likely to get lost in the flood of content already available on the same topic.
On the other hand, if you subtitle it, this allows the indexing robots to know what you are talking about. This will boost your referencing.
3.2. Stay inclusive
Translation allows you to have a foreign audience. Dell, for example, uses our solution at all its major European events.
Even if you don't plan to reach foreign prospects, converting your MP3 into French is a must. It allows the deaf and hard of hearing to understand your content.
Converting an MP3 into text is now within everyone's reach. EoleCC is incredibly easy to use, even if you are a beginner. What's more, we'll help you with your first transcriptions. So don't worry. Test our software and call us on +33 (0)4 67 17 41 56 if you need help. We are here to help you.
*Prices at the time of writing.