What are the advantages of a video podcast?
The video podcast is a powerful way to communicate information and create a community around your brand. It is a form of media that combines audio and video to create an immersive experience. It is growing rapidly and is adaptable to a multitude of audiences and topics.
Turning a podcast into video offers several benefits:
Expand the reach of your audio. By adding images and visuals, you can address a wider audience and provide a better experience for your listeners.
better SEO: videos are more likely to show up in search results, which can help you generate more traffic and visibility for your podcast.
Finally, videos are often more engaging than audio podcasts, which can help build loyalty and encourage your subscribers to share your content.
Concretely, how to transform your video into a podcast?
We explain the different steps using our tools: EoleEdit, dedicated to video editing, and EoleCC for subtitling.
EoleEdit a practical solution
EoleEdit is an online video editing solution, which gathers the essential features to make an editing easily and quickly. The platform is available online, so it can be accessed from any device connected to the internet. You can also access it from anywhere in the world, which is very convenient if you travel. Your data is stored on secure servers.
1. Add images, videos and sounds to illustrate your podcast
First select all the images and videos you want to upload to your library on EoleEdit. Media files are a great way to liven up your podcast and make it more engaging and entertaining. For example, you can add visuals to accompany your narration, videos to illustrate certain points, slideshows to show the progression of an idea, screenshots to explain technical concepts or even photos to illustrate stories. On EoleEdit all formats are accepted, 16/9; Square; Vertical; Horizontal etc. It is also possible to add a sound or jingle, in your sound library, to introduce your podcast to reflect your personality.
2. Turn your audio into a waveform
To transform your audio file into a waveform in EoleEdit, go to the settings and click on "Generate Waveform". Waveforms are used to visualize the real waveform of a sound signal. You can then, still in the parameters, modify its position, size and amplitude! A good way to dynamize your message.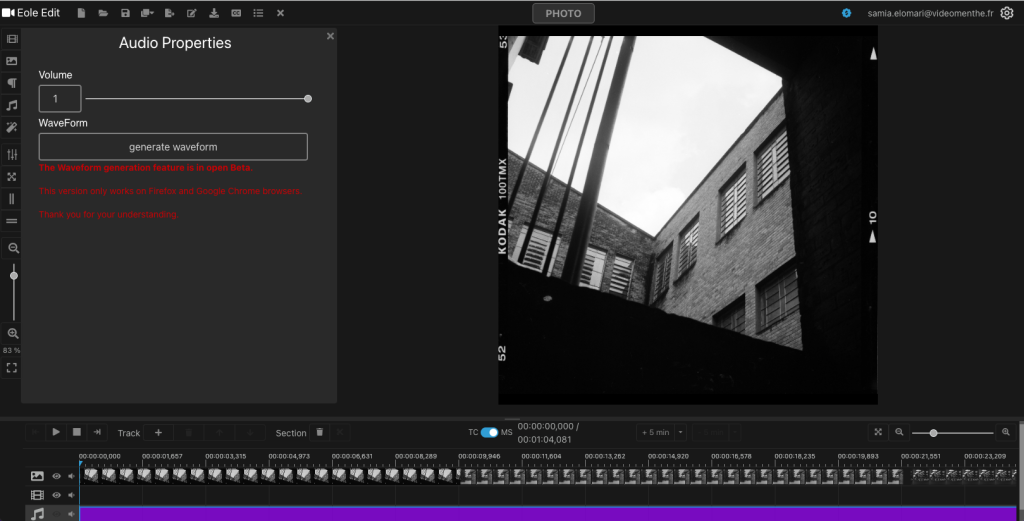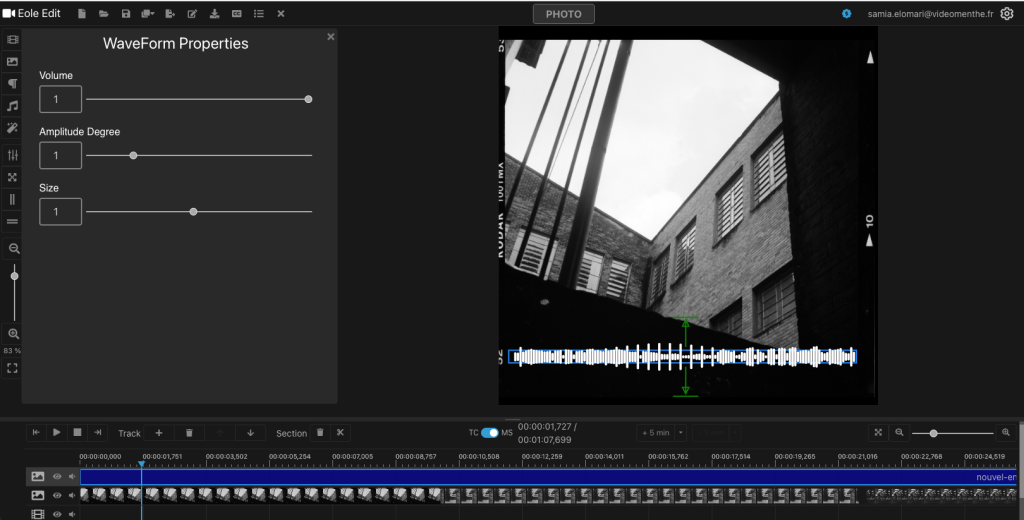 3. Add transitions and titles to enhance the listening experience
Visual effects can help create a unique and immersive atmosphere, attract your audience's attention and add interest and depth to your presentation. In EoleEdit, several transition options are available to make it easier to switch between different video sequences. You can change the duration of the transitions.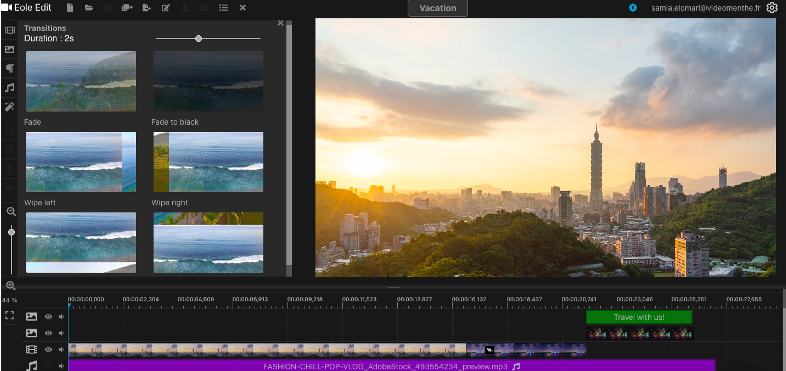 Consider adding titles to provide additional information about the content of the video. For example, at the beginning of the podcast announce the name and number of the episode. As you can see, in EoleEdit, there are different styles of transitions and titles available to suit different video styles and projects.
4. Add subtitles to help listeners understand the content.
Subheadings can help listeners understand your message. They can be in the form of brief words or phrases that highlight key points and information. There are huge benefits to subtitling your podcast:
Follow the flow of the presentation and capture the important points.
Ensure accessibility of your message to the hearing impaired
Reach an international target
Strengthen SEO
Thanks to our automatic subtitling solution EoleCC lite, get quality subtitles! What is EoleCC lite? It's an offer with a choice of 5 languages: French, Spanish, English, German and Italian, with a 30 min video pack to subtitle. If your podcast is 40 minutes long, you can add an extra pack. If you want to translate your podcast into Arabic or Chinese, check out our superior EoleCC version.
Transcription and translation are generated automatically, which saves a lot of time. All you have to do is proofread your subtitles and make any necessary changes. A custom word dictionary is at your disposal to integrate all the vocabulary related to your universe. You can customize your subtitles by changing the size, color, font, opacity and positioning.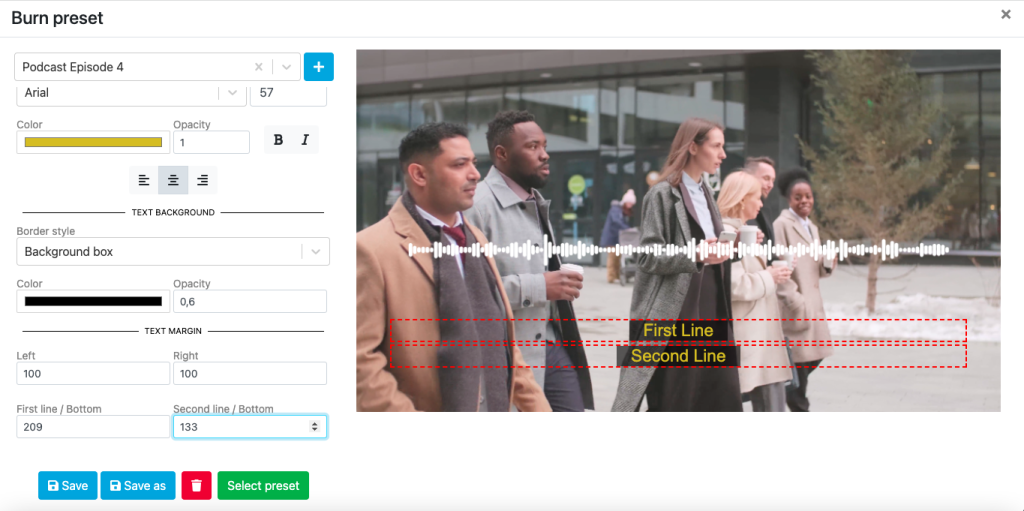 Once this step is completed, you will get :
Your podcast video with the subtitles automatically embedded.
Or the .srt file which is a text file format, composed of three parts, namely a subtitle number, a start time and an end time (the time codes), and finally the text itself.
5. Publish your video on your website, a streaming platform
The best way to publish a video on your website is to create a specific page for the video and use an embedded video player to stream it. The most common embedded video players are YouTube, Vimeo, Dailymotion and Wistia.
You can also publish your video on a video streaming platform like YouTube, Vimeo, Dailymotion and Twitch. Indeed, as we saw in the previous article, YouTube has dedicated a podcast tab. You can choose to publish your video already subtitled or integrate the .Srt separately in one of its platforms.
That's it, that was all the steps to transform your podcast into a video! Pretty simple, right? Then go to our Eolementhe platform to test EoleEdit and EoleCC lite: www.eolementhe.com
The trial is free and lasts 1 month!