Comparison of automatic, manual and mixed subtitling solutions
Automatic, manual or mixed video subtitling allows you to create subtitles. And, the task seems complicated just talking about it. So, what choice should you make to quickly and easily subtitle a video you have edited and want to broadcast or share on social networks or internally in your training center or company? Indeed, many solutions have appeared on the subtitling market. So which software should you choose? To optimize your time and patience, should you choose a fully automatic solution, a fully manual solution or should you mix the two and opt for a hybrid subtitling solution? Find your answers in this comparison!
In summary
Why choose a subtitling solution?

Which subtitling solution to choose?
1. Why choose a subtitling solution?
The choice of a solution is a matter of pragmatism. Indeed, subtitling is a delicate and time-consuming task. It requires the ability to transcribe, to synchronize words with image and sound, to translate dialogues into several languages, etc. So, it's a painstaking and exhausting job.
1.1. Optimizing your processes
Nevertheless, to optimize your processes, solutions exist:
Manual softwares ;

Automatic solutions ;

Hybrid online collaborative platforms.
And, they have a common point of interest.
1.2. What these solutions have in common
The common point to these devices is that your work is made easier, the transcription is done without typos or forgotten words. Moreover, time synchronization becomes intuitive thanks to an interface that displays and allows direct editing of the video's subtitles. Finally, depending on the solution, you have some really interesting features to make your life easier, such as automatic translation or translation by professionals if you don't do it yourself. Then, you optimize your natural referencing thanks to a technical help and you convert your subtitles and videos in the blink of an eye to SRT format, VTT or with a title overlay.
So, depending on your resources and the time you have available, choose one of these solutions. To do so, discover below a comparison between them in order to make an informed decision.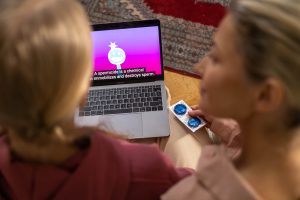 2. Which subtitling solution to choose?
Here is a summary table of this comparison requiring manual, automatic or mixed subtitling.
2.1. Pros and cons
Discover the advantages and disadvantages of each type of subtitling solution, manual, automatic or mixed.
 

COMPARISON

SUBTITLING SOLUTIONS

 Manual

Automatic

Hybrid:

online subtitling editor

Pros

Open-source software
Subtitle synchronization
Spell checker
Customization
Compatibility with Windows, Linux and Mac
Extensive features
Automatic backups
Customizable and scalable generated formats
Translation wizards

Automatic subtitle generator
Intuitive interface
Wide range of translations
Speed

Active collaborative online work
Pleasant and intuitive interface
Very easy to use
Voice recognition
Speed thanks to automatic translation
Professional proofreading
Professional subtitle quality
Formats adapted for each social network (Tik Tok, Insta, Facebook, etc.)
Large number of languages translated (up to 120 languages with EoleCC)
SEO friendly transcription

Cons

Complex for beginners
Expensive solutions if the task is outsourced (transcriber or translator)
Very time consuming
Customizable and scalable generated formats

Voice recognition not always perfect
Subtitle quality often very average
No human proofreading
Some bugs
Possibility of customization to be improved

Possibility of customization to be improved
 2.2. Verdict of the best subtitling solution
All-auto subtitling Vs manual Vs mixed solutions, so which one is your heart? So, if you are looking for excellence, have time and a comfortable budget, choose a manual solution with which you will perform subtitling adapted to your needs. And, if you are in a hurry and don't care about quality, choose automatic translation. Nevertheless, some translations will not fit the cultural reality between the original country and the one for which the video is translated. So, be aware of these inconsistencies. On the other hand, if you choose an hybrid solution that has the advantage of automatically translating an online video and checking it just as quickly, either by yourself or with the additional services of professional translators, you are choosing to save time and be pragmatic!
Last but not least, a hybrid solution like EoleCC is clear, intuitive, easy to use and above all, it is not expensive! Discover it quickly!