What is the best current video editing software?
Are you looking for a fast, powerful and easy-to-use video editing software? Then, discover here a comparison of the best video creation solutions and choose the one that suits you according to your needs. Indeed, if you are a video editing professional and you need to make a short film, you will not select the same solution as if you want to create a video for a training or to spread a message about a product through social networks. There is a plethora of software on the market. Some are extremely powerful, but also very complicated to use. Depending on your project, they will suit you. On the other hand, some software and even collaborative online platforms offer a fast, intuitive and also very competitive solution. Discover our selection!
In summary
1. The Best Online Video Editing Software
2. The best video editing software for Windows 10
3. The top software on Mac
4. Making video edits: Top 3 on PC
5. Our expert opinion
6. Concrete cases of video editing partnerships
7. FAQ Best video editing software
1. The best online video editing software 
We have good news for you! Video editing is not just for professionals anymore. With social networks that post videos online, like YouTube, editing a video has become commonplace. The advantage is that you can do it directly online, without downloading any software.
1.1. EOLEMENTHE: the best online editing software
Connect to the EOLEMENTHE website and discover very quickly a collaborative platform where you can edit online in a very intuitive way with EoleEdit and a quality transcription correlated to an automated translation up to 120 languages with EoleCC, with the option of verification by online native translators. Getting started with EOLEMENTHE is very easy.
Advantages are:
Professional results in a few clicks;
Multiple easy-to-use features for high quality editing;
Creation of 1:1 square, 16:9 horizontal and 9:16 vertical videos;
Collaborative review and validation of subtitles;
Subtitle overlay;
And impressive speed.
The EOLEMENTHE studio has 2 essential functions which are online editing with EoleEdit and subtitling in 120 languages with EoleCC.
From a simple web browser and a connection, wherever you are, at the office, on the road, etc., enrich your videos with text, sound and create your editing according to your wishes.
Cut, paste, drag and drop quickly and easily with this turnkey solution. Sharing on social networks is just as responsive because you create your videos in the format adapted to your preferred channel: TikTok, Facebook, Instagram, Linkedin, etc..
1.2. Magisto: elegant video editing
Magisto works like EOLEMENTHE, it's an online video editing platform. The only difference is that it is not proposed in French. This site proposes a sharing of life experiences through online videos. The processes are all automated and your raw video content is transformed into a nice result.
You can play with the atmosphere and style of the clip. In addition, a visual and audio analysis is added to the whole process. This multiplatform offers you the possibility to make video edits from mobile devices like a tablet or a smartphone. If you sign up for an account, you will find it on all the devices you use. You have the pleasure of sharing your videos directly on your favorite social networks.
On the other hand, if you need to record videos on your PC, you have to upgrade your package or invite friends to download this platform for free.
1.3. Powtoon: educational online editing
This website offers to make atypical videos which are a mix of presentations and comics. Their objective is educational and above all, explanatory. If you want to create a video whose goal is to guide or explain a concept, then Powtoon is the site you need. The principle is as follows:
Use of slides, in the same style as PowerPoint;
Drag and drop editing;
Creation of 1:1 square videos; 16:9 horizontal and 9:16 vertical;
Upload your own videos;
Ability to use Storyblocks' built-in video sources;
Choice of customizable characters and objects from PowToon.
This site is interesting to create original and explanatory online presentations, nevertheless, a watermark remains on the export video of the free version. Moreover, you cannot download the video in MP4 format in the Free version.
2. The best video editing software for Windows 10
When you want to edit a video on Windows 10, so from your PC, several software to download exist to perform this work. Not always intuitive, in any case, not as easy to handle as an online platform, but they still make quality videos.
2.1. Windows Movie Maker: for beginners
Are you new to video editing? Then this is the video editing software that casual users love. If you are a beginner, you will have access to various basic tools that allow you to create simple videos with the following processes:
Trim or move clips;
Adding text;
Inserting transitions;
Add text; Insert transitions; Integrate credits;
Use templates provided by the software;
Easily export to social networks.
Note: the service has stopped on Windows 10, in order to use it, go through Windows Photo or download it from Windows Live Essential.
2.2. Lightworks video editing for pros
Want to edit a video with a software that produced Pulp Fiction or Moulin Rouge? Then Lightworks, which is fairly simple to learn, but has some more complex features, is what you need. You need to take some time to master it and make Hollywood-style video montages with :
Ultra-precise video trimming;
720p export;
Multi-camera support;
Pro-level editing;
Tutorials.
2.3. VCSD: video editing for a professional presentation
Are you a beginner? Do you need to make professional presentations? Then use the easy-to-use VCSD platform. Specifically tailored to presentation creation, it also offers the ability to create fun videos with ready-to-use filters, customizable options, color correction and audio editing.
3. The top software on Mac
For fans of Apple computers, there are many Mac OS compatible programs. From the simplest to the most advanced, here are the programs that adapt to Apple PCs: MacBook Pro or Air, iMac, iPad, etc.
3.1. VideoPad: video editing for beginners on the Mac
This program is ideal for beginners to video editing on the Mac. Its many features combined on one platform include:
Transitions ;
Predefined sound effects;
Camera motion reduction tools;
3D editing;
Direct upload to YouTube.
For personal use, this software is free, however, its functions remain limited. It remains very accessible for beginners.
3.2. Shotcut for the intermediate user
If you want to improve your skills and do more expert video editing, download Shotcut. This open source program offers advanced possibilities compared to Windows Movie Maker, such as using a chromatic key function or a plethora of formats that produce high quality videos with 4K HD resolution, editing on Video and Audio Timeline.
Nevertheless, this program takes a long time to get used to, and you need to be patient in order to be able to use its features. On the other hand, it is free and that is a motivating factor.
3.3. Hitfilm Express for film professionals
Discover this free software for film professionals and create visual effects worthy of American movies. Hitfilm Express has:
Free and paid VFX tools;
Color key;
Color adjustments;
Lighting effects;
2D and 3D video support;
Direct upload to YouTube.
This software is addressed to professionals, it should be known that its interface is complex.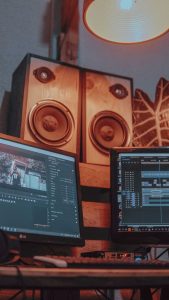 4. Making video edits: Top 3 on PC
To make professional quality video editing, we have selected a top 3 software..
4.1. DaVinci Resolve: the king of the PC
This video editing and color grading software is intended for professional use. However, you must have a powerful PC with a competitive processor to run this software. However, it is free. And, its advanced possibilities are designed for Blackmagic and DaVinci cameras. Indeed, these are the references in this field. A panel of pro features allows you to:
Rectify eye colors;
The tone ;
Lips;
Etc.
In addition, professional quality audio editing tools and a graphic animation complete this panel. You also have the possibility to collaborate with other users, to opt for intelligent color correction and to handle advanced post-production tools.
4.2. PowerDirector Essential: for pros and beginners
This software is suitable for both amateurs and professionals in video editing. It offers both basic and advanced features. Most of these features are free and those that are paid are not very expensive compared to other software. With PowerDirector you can:
Create professional montages;
Make a YouTube channel;
Assemble your own movies;
Etc.
5. Our expert opinion
Are you lost in front of this multitude of proposals?
To refine your choice, first target your needs:
Do you want to edit a video for social networks?
Make a video for YouTube?
Create a professional presentation?
Create a video for an online training course?
Create a quality video with impact?
Don't waste time editing a video ;
Find free video editing software ?
Install video software on a Mac ?
Etc.
To get straight to the point and obtain a quality video editing, made quickly and transferable immediately on the Internet with the appropriate format, EOLEMENTHE stands out from other software because it is an online collaborative platform that adapts to most media: PC, MacBook Pro or PC under Windows. Its ease of use is unheard of and it is very simple to use. In addition, the ability to perform transcription and translation adapted to each region of the world gives it a great advantage! Find out how it works and how Artificial Intelligence is used in these processes.
6. Use cases 
EOLEMENTHE used by experienced trainers or in the European Parliament, it is a guarantee of professionalism adapted to neophytes who wish to export their know-how through video.
6.1. ProbikeShop: videos for YouTube
ProbikeShop has chosen EOLEMENTHE to realize its video subtitling. EoleCC is indeed a "very interesting tool" according to Camille Ollier, Probikeshop's content manager. He tells how he saved a lot of time to better focus on his know-how. The videos are automatically translated into English and verified by a Videomenthe translator. Probikeshop has no less than 42.8K subscribers on YouTube. With this partnership, it intends to expand its popularity in Europe.
6.2. BNI France to convey strong messages
When a network as important as BNI wants to convey messages to entrepreneurs, a solution like EOLEMENTHE's brings the expected answer. The objective of BNI is to promote international events and therefore to subtitle videos in several languages. Because the reactivity of such a solution propels the message. What counts is time and technical skills, and EoleCC makes it possible to add subtitles quickly and independently. This facilitates the task in a context where information must circulate fairly quickly.
6.3. The European Parliament to subtitle videos
The European institution chose Videomenthe for multilingual subtitling. The challenge is to meet the following aspects:
Transcription and translation into several languages;
Doing it quickly;
Collaboration between the different translators;
For a reasonable budget;
And infallible data security.
According to Delphine Piraprez, advisor to the European Parliament's DG Translation, this challenge has been met with flying colors.
7. FAQ Best video editing software
In order to cover all the questions you may have, here is a FAQ on video editing.
What is the best video editing software in French?
There are several video editing software in French, among them you can find EOLEMENTHE or Kizoa. 
What is the best online video editing software?
To make a professional video editing in all simplicity and especially of a great quality, choose EOLEMENTHE. Its 2 features, named EoleCC and EoleEdit, allow you to quickly create a powerful video and to translate it in up to 120 languages in an automated way, with the option of review by experienced and native translators.
What video editing software is used by YouTubers?
In order to save time and money, YouTubers choose advanced, yet inexpensive video editing software like DaVinci Resolve or EOLEMENTHE.
What is the best video editing software for beginners?
Here again, there is a large choice of software suitable for beginners. PowerDirector and EOLEMENTHE are easy to learn.